Neil Diamond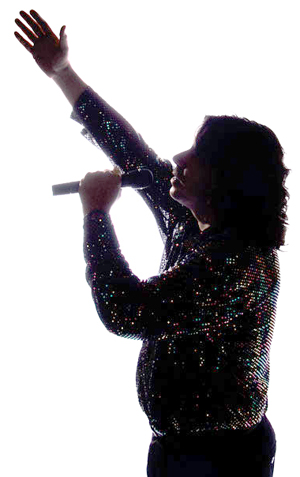 Eric B. Ebert, sometimes known as "Eric Diamond", has been performing as a Neil Diamond Tribute Artist since 2001, and has been told on countless occasions that he "sounds more like Neil Diamond than Neil Diamond does".
Having been a singer and musician for 20+ years in various alternative, Top 40, Classic Rock and original bands around Milwaukee, Eric tired of the trials and tribulations of being in a band. Told one night while singing karaoke with a friend (Elvis Tribute Artist Alan Hart) how much he sounded like Neil Diamond, Eric thought that a scaled-down approach to explore this "newfound talent" would be a welcome change of pace. He quickly bought a bunch of sparkly shirts and the rest is history.
Over the years, Eric has worked with several other Tribute Artists and top-notch performers to provide an energetic evening filled with variety, good music and great times, and has even added tributes to other artists like John Mellencamp to his repertoire. In June of 2009, Eric Diamond Productions was officially born, as Eric quit his day job as a computer technician to focus entirely on entertainment.
With the exception of the Ultimate Legends Band shows, Eric Diamond Productions' entertainers perform to "backing tracks" -- real, live vocals but no actual musicians to clutter up the stage -- and switch off vocal duties throughout the evening. Although some may think it "just isn't the same" without a live band, Eric and company are confident when they say that, with their energy, song selection and vocal abilities, the lack of other musicians is barely noticed. And because one of them is always singing while the other is "relaxing" and chatting up the clientele, they are able to provide four hours of continuous music with no breaks.
With a mailing list of 900+ people, Eric Diamond Productions' entertainers' interactive, high-energy style and song selection are what keep people coming back. With several acts and packages from which to choose, Eric Diamond Productions can confidently provide a show that everyone, young and old, will enjoy. As Eric himself says:
"Whether you're 25 or 85 years of age, everyone knows and can sing along to at least one Neil Diamond song. I've seen this during countless performances of my Neil Tribute -- whether I'm singing at some hip and trendy bar downtown or playing a courtyard picnic at a nursing home, there is continually and consistently an excellent response. And why is this? It is because, simply put, Neil Diamond is one of America's greatest songwriters, of this or any generation. I know I sound like a quote from the movie Saving Silverman, but it's the truth. He has sold millions upon millions of records by putting his words, music, heart and soul out there for everyone to hear. I am by no means a fanatic; I just know good music when I hear it.
"It is an honor and a privilege to reproduce the passion of Mr. Diamond's voice at every show, and to reintroduce people to the beauty and simplicity of his songwriting. And with a host of other talented artists by my side, we will ALWAYS deliver a show that will be remembered for months to come."