The Ultimate Legends Band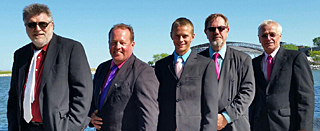 "The Ultimate Legends Band" is a five-piece Elvis Tribute / Classic Rock Band.
In addition to being an Elvis Tribute Band, they also have a large list of songs from the 50s to 70s eras including such artists as Johnny Cash, The Beatles, The Supremes, Nancy Sinatra, Johnny Rivers, Dolly Parton, CCR, and many more.
We're extremely happy to have the Ultimate Legends Band back again for our 15th Annual Elvis Birthday Bash!
For booking information call Jeff King at 920-988-6145 or email him at Qig1(at)gdinet(dot)com.