Attendee Comments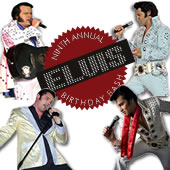 Thanks to everyone who attended this year's Eighth Annual Elvis Birthday Bash and/or our inaugural Friday Night Legends Show!
We'd like to know how you liked the show(s).
Please drop us an email with your opinion. Thanks!
Got photos to share? Email us the link and we'll post!
♦ Elvis Birthday Bash Facebook Photos
♦ Emma's Facebook Photos
♦ Jeff King's Photos
Here's comments from a couple of last year's attendees
I just want to say what a great time I had at this year's Elvis Bash. The way you set up the show covering all eras of his life was great. The staff, the lighting, the video was all top notch. Your overnight package was the best part. It was so nice to just walk across to the hotel rather than having to stay someplace else. Everyone at the hotel was very friendly too.
This was my first year attending, I came because of Joseph Hall, it was so nice seeing him outside of Branson! I hope you get him back again next year.

I live near Lake Geneva WI and think you should do more shows like this. Did you ever consider Bobby Vee?
I had a wonderful weekend and just wanted you to know. Thank you!!

---
I wanted to send a quick note and thank you for allowing me to get seats up close for my Mom at the Elvis Birthday Bash this past weekend. With my Mom being 87 and LOVING Elvis this was extremely exciting for her!

We have the date on the calendar for next year. We will make sure we purchase VIP seats as soon as the tickets go online.

Again THANK YOU for your generous heart! It was a fabulous show!
---
Great show. Great ETA's. Great BAND! GREAT WEEKEND!!!
---

Hi . . . Just wanted to let you know how much we enjoyed the Elvis Birthday Bash last night. Fun times were had by all. Our girls, ages 9 and 10, thought it was great. (They were the "poodle skirt" girls, and everyone in our area was making them feel like "queens for the night.") One very nice VIP person even got scarves for them, which they were very happy for. See you next year!
Thank you for responding to my email . . . Nice to meet you at the show. Enjoyed the show and meeting everyone. Please let me know details for next year and I will try to be there! Did you get any complaints? Met your son Brian. Nice kids who were helping out. Those girls selling the flowers worked hard!
The show was great . . We all had a great time, I'm sure we will be there next year.
Good afternoon, Dianna and Jeff . . . Thank YOU two for putting it all together -- you're a class act! Bill and I had a good time and look forward to working with you again in the future.
I think this year the VIP thing was awesome . . . That was very cool and if you have it that way again, that is the ticket I'd buy every time. Yes, there were a lot of people. I myself would prefer the evening show and do think a matinee would be beneficial as well, maybe the elderly would prefer that as well. Just a thought. Nice job as always!
Hi Dianna & Jeff . . . Just wanted to drop you a quick line to say thank you for all your hard work organizing the Elvis Bash.
Elvis' were WONDERFUL . . . Thank you guys for a great show!