History
The Wausau Daily Herald has posted a video an online gallery you might want to check out.
Here's a few comments we've received after the 2012 event:
"Wow! what a great time we all had. My mom even cried during Peace in the
Valley. Thanks so much for the tickets. We are already planning for next
year and are going to bring a lot more people. Again, Thank you . . . thank you
very much."
"We truly have a great time at this event!"
"It was one of my favorite shows of all time. All the artists were good and the music fantastic."
"Both shows were fantastic!"
"Thank you for a great night -- I enjoyed the show! You guys are great."
"We had VIP seats and the food and refreshment added a nice bonus to an awesome show. The performers all brought something different to the table. Seeing all the eras of Elvis presented made the show a must-see for any Elvis fan. We're already looking forward to next year and will probably attend BOTH shows next time because the quality of the performances are that great!"
Thanks to all who've attended our events. We encourage you to help us plan our 10th Anniversary Event by submitting our Event Opinion Survey.
Dianna & Jeff Busha



Singers, fans pay tribute to The King
Excerpts reprinted from the Wausau Daily Herald, by Amy Kimmes
Elvis Tribute artists say there's nothing better than stepping into the Elvis Presley persona and entertaining and admiring audience.
I was an Elvis fan as a kid, but the biggest reason I'm an Elvis tribute artist is because I like seeing the people's faces," said Fred Heidemann of Stratford about his performances. "I see the audience reminiscing right in front of my eyes. I kind of feed off of that."
Heidemann and three other award-winner impersonators -- Curt Lechner, Tony Rocker and Junior Talley -- will pay tribute to Elvis on Saturday, January 7 at Dales' Weston Lanes.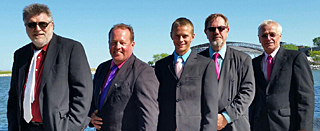 All performers will be backed by the Madison-based Comeback Special Band.
"The birthday bash is a way to keep (Elvis') music alive," said show organizer Dianna Busha, 48, of Weston. Busha, who is retired postmaster of Rothschild, along with her husband Jeff organized the first event in 2004 which drew about 250 people. The 2005 event saw approximately 350 attend, and hopes are the 2006 event will draw close to 500.
"Elvis sang songs from his heart and soul . . . they expressed how we felt, our hopes and dreams; triumphs and tragedies," she said. "He was a phenomenon."
Elvis impersonator Rocker, 40, who runs a painting and drywall business in the Madison area, says he's an Elvis tribute artists for two reasons: the music and the man.
"Elvis was the greatest humanitarian as well as the greatest performer we've ever seen," said Rocker, who will portray the "68 Special" Elvis at the upcoming show. "He had the whole package. He always wanted to give 100% in his shows."
Elvis has sold more than one billion records worldwide, more than anyone in record industry history, and 149 of his songs appeared on Billboard's Hot 100 Pop Chart in American, according to elvis.com.
The Elvis performers cherish their memories of the king of rock 'n roll.
"My fondest memories were listing to Elvis, dancing around and playing guitar," said Heidemann, who owns and overhead door company. "Sounding like him comes easy. I have a lot of fun with it."
Opportunities to relive Elvis, the man, the myth, the legend, don't come around often.
"There will never be another Elvis --- he was a one and only -- but we can still enjoy his memory through the talents of these fabulous tribute artists," Dianna Busha said.
You can almost hear Elvis saying . . . "Thank you. Thank you very much."