GIB MAYNARD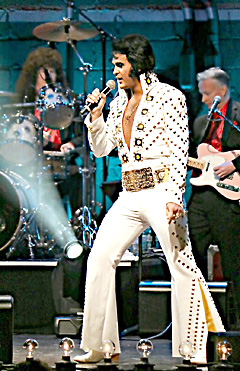 Gib Maynard is a 27-year-old East Texan who has been an avid Elvis fan since the age of six. Much like Elvis, Gib's first musical experience was playing piano, and singing Gospel music in the church he grew up in. When Gib was about eight years old, his grandmother made him a jumpsuit that he would wear and perform for family members in. Being a theater major, Gib has always found himself acting or singing onstage. Combine that with being a huge Elvis fan, it seemed destiny that Gib would become an Elvis Tribute Artist.
In August of 2017, Gib did just that and decided to professionally pursue paying tribute to the King of Rock and Roll. In just a little over a year of being in the business, gib has wowed thousands with his beautiful voice, uncanny resemblance, and down-home Southern charm much like Elvis.
It was a great honor for Gib to be selected to perform in the 2018 Nashville Elvis Festival as his first competition where he came in as a finalist. He then went on to compete in the Tupelo Elvis Festival, and later was selected as a semi-finalist in the 2018 Images of the King World Championship competition during Elvis Week in Memphis, TN. He also was finalist at Elvis Explosion 2018. Even though Gib is new to the Elvis tribute world, he has already been honored to perform abroad and internationally and looks forward to many years of keeping the King's music and memories alive and entertaining Elvis' many wonderful fans.