Gino Monopoli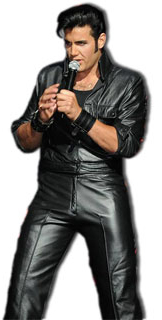 If you were at the 2009 Elvis Birthday Bash, you know why we're bringing Gino back for this year's event.
Gino Monopoli is one of the most charismatic Elvis Tribute Artists on the scene today. His many titles include Collingwood Grand Champion (2003) and Images of the King Memphis (2008).
Capturing the look, moves, and sound of the "world's most recognizable celebrity" have paid off handsomely, with more than a year of advance bookings across North America and abroad.
This Toronto-based artist calls it 'a privilege and an honor' to bring what has been termed "the essence of Elvis" to his audiences.
You'll be thrilled and amazed by Gino's tribute as he pays homage to "The King of Rock 'n Roll."