Irv Cass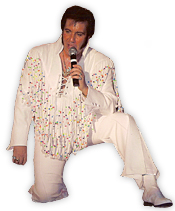 Hailing from South Bend, Indiana, Irv has spent many years perfecting his performance. He has worked with the famous show "Legends In Concert" in four different states, as well as live performances in many countries and on dozens of cruise ships.

He is very proud of his world champion title from the "Images of Elvis" competition in Memphis, TN as well as winning many other competitions, most recently the "Elvis Explosion 2009" in LaCrosse.

Irv has also appeared in the movie "Almost Elvis" as well as TLC's "The Men Who Would Be King" and a special for "20/20" as well as other TV specials. He's also shared the stage with DJ Fontana, The Jordanaires and Willie Nelson, as well as many other celebrities.

His favorite part of performing as Elvis is simply paying tribute to the greatest entertainer of all time, the one and only Elvis Presley.

We're happy to have Irv in this year's show, and hope you enjoy his performance.