Jesse Aron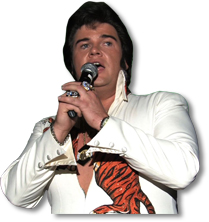 Jesse Aron has been performing his tribute to Elvis for 13 years now. He started in 1998 performing in his local area of Janesville, Wisconsin, where he now resides.

It wasn't until 2003 that Jesse finally got the courage to compete in Elvis festivals. Jesse's first competition was held at Potawatomi Bingo Casino in Milwaukee, Wisconsin, hosted by Kurt Brown. Jesse lost his voice due to the stress caused by the caliber of performers he would be competing against, but continued through the competition eventually winning first place twice out of the 4-day week.

Since then, Jesse has performed all over the country, from Las Vegas to Texas to New York, and performed at many different venues throughout Canada. Jesse has also placed in the top 3 in Collingwood's Elvis Festival the first year he entered the contest, for which he was extremely grateful.

Jesse has competed in several competitions throughout the USA and Canada and has placed everywhere he goes. He has competed in Images of the King and placed in their finals 5 years in a row and in 2009 He won Images Of The King. In 2010 Jesse was asked to perform in the UK and is now known as an International Elvis Tribute Artist. Jesse's tribute to Elvis is indeed a special one, his fellow ETA's respect and enjoy Jesse's talent as an Elvis Tribute Artist and Jesse loves being surrounded by his friends through Elvis.

Most recently, Jesse has added a tribute to Roy Orbison in his performances that has caught the ears and eyes of the "Baby Boomers" and they love it!

Jesse wants all Elvis fans to know that he is just an Elvis fan expressing his respect the only way he knows how and that's through entertaining you as his Favorite artist!

Jesse has also received 2 letters of commendation from both governors of Wisconsin stating that his actions in performing benefits for veterans or war to performing benefits for Special Olympics has made him a role model and a credit to both his community and state.

Jesse's popularity continues to grow as he is now often joined onstage by his new bride, and award-winning tribute artist, Tarie Aron, as Marilyn Monroe.

It isn't Jesse's goal to be Elvis, it's his goal to create new Elvis fans and educate them on the worlds greatest entertainer to ever live, Elvis Presley.
Jesse performing "Just Pretend" . . . enjoy!