Kevin Mills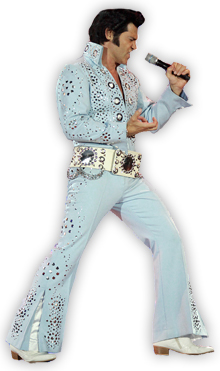 This year will mark the first time Elvis Tribute Artist Kevin Mills graces the Elvis Birthday Bash stage. As a newcomer to our annual event, Kevin brings along an accredited history as an Elvis Tribute Artist along with him.
Kevin Mill's authentic portrayal and fascinating interpretation of Elvis Presley has made him one of the countries most sought after and popular performers in the industry.
Considered a specialist in the business, Kevin's crowd pleasing style and mannerisms, mixed with his unique blend of talent, vocals, electrifying charisma, and elaborate costuming, makes him a favorite with international fans around the world. Multi-talented at paying a spectacular tribute to Elvis Presley, Kevin became a high-profile International Tribute Artist, and stood out early in his career.
His popularity, as well as his astonishing high energy performance, charm and exquisite styling, makes him a strong talent…and he attracted the public's attention early in his career with overwhelming, positive response.
Kevin's career soared and took a great leap forward when he was crowned World Champion at the 4th Annual Elvis Impersonator Contest in Memphis, Tennessee. Most recently, in November, 2007, he was crowned Grand Champion in the Pro Division at the Visions Of The King Elvis Festival in Ontario.
Adding to his notoriety, and positioning within Elvis's inner circle, and leading musicians who now share Elvis's musical legacy, Kevin was recently judged, awarded, and crowned Grand Champion in September 2007 on board the "Elvis Jazz Cruise", by performers who shared the stage with the most recognized entertainment force in the world.
Since proving himself as a leading entertainer, Kevin has joined the cast of Legends In Concert, and has headlined and performed at the Presidential Inauguration for Bill Clinton, along with Carnival and Disney Cruise Lines, The Jerry Lewis Telethon, Super Stars Live, The Spirit of America Tour, The Taj Mahal, Stage West and a South Pacific U.S. Military Tour.
Kevin has been equally active in film and television. Respected in the industry, he has appeared in dozens of high profile productions, including several television and acting roles. Highlights and extra credits include: Entertainment Tonight, Inside Edition, 48 Hours, ABC Primetime, Arts and Entertainment Network, Geraldo Rivera, The Relic Hunter, a television action adventure series, Fox Television and CNN, and most notably, his starring role and lead performance in "Elvis: The Beginning".