Matt Cage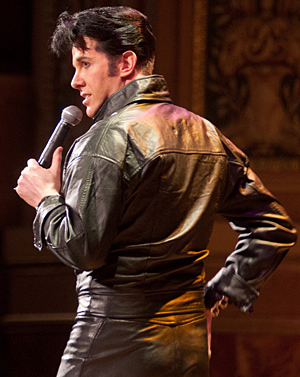 This is one Elvis Tribute Artist you don't want to miss! Matt Cage is an elite performer recreating the King's legendary career with an uncanny likeness to the real thing. Matt is a multi-award winner, holding Professional championship titles across Canada and the United States. He was a top-15 finalist in the Ultimate ETA Contest in Memphis, 2012, solidifying his position as one of the top ETAs in the world.

Matt has been an avid fan of Presley's since he was a youngster. The Toronto-born performer has a love of Elvis and strives to keep his memory alive. From the hip-swivelling 50s to the stunning vocals of the 70s, Matt does it all.

Offering a great crowd pleasing style, Matt engages his audience with the same young, vivacious appeal that Elvis himself was famous for. It is easy to see that Matt is at his best when performing for the fans.

New, fresh, and alive with energy, Matt Cage is the whole package in one talented Tribute Artist!
More on Matt can be found at his website, www.mattcage.com