Matt Joyce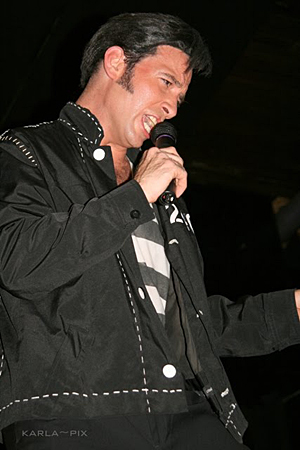 Though Matt Joyce from Arkansas has only been an ETA for a couple of years, he's definitely got E's music in him!
Matt has a degree in marketing, but he developed his natural people skills working as a waiter at night and performing as lead vocalist with his band.
At this year's Elvis Birthday Bash, he will sing up a storm of 50's material, gyrating across the stage and dancing through the aisles with an abundance of energy that will have the crowd going wild!
Emulating the King's famous moves will look natural for Matt and creating a frenzy (especially among the female fans) reminiscent of the "Hillbilly Cat" in Elvis' prime.
Matt will be sure to keep his audience in a lively mood. Celebrate with us as we join in clapping to the Elvis beat, smiling and remembering E's great ballads of the 50's!
For more on Matt, go to www.elvisbymattjoyce.com