Nick Miller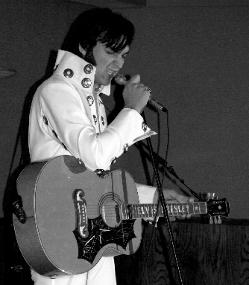 Nick Miller was born and raised in Joliet, Illinois.
While vacationing at a young age with his family, they stopped in Memphis, Tennessee visiting Graceland and Nick became an instant Elvis fan. He began watching Elvis movies and listening to his music. From that moment on, Nick began singing in the basement and one day, he simply decided to become an Elvis Tribute Artist. Nick enjoys singing every day. Authenticity is important to Nick, as well. He enjoys incorporating as many detail-accurate elements into his show as possible, from song versions, to costumes and jewelry, and even microphones.
At 24 years old, and with nearly nine years of experience already under his belt, Nick has performed at and is available for private parties, class/family reunions, car shows, benefits, fundraisers, businesses, clubs and/or restaurants in-and-around the area. He has participated in Elvis contests in Chicago, Mississippi, Memphis, Indiana and Wisconsin. In 2012, Nick made the finals and took 3rd in the first Windy City ETA Competition in Chicago, in addition to being voted winner of the Windy City People's Choice Award. In 2011, Nick took 2nd in the Non-Professional Finals of the first King of the World Contest in Memphis, as well as placing in the Top 10 in numerous competitions throughout the Midwest. In Summer of 2013, Nick took 1st Place at the Halfway To Windy City Competition. Nick recorded his first CD in 2010, with a follow-up release in 2012. In July 2012, Nick joined the annual Michigan ElvisFest in Ypsilanti as a part of an elite cast of Elvis tribute artists. He was invited back for 2013.
Nick has also performed a tribute to Tom Jones since 2011.
His website can be found @ www.nickmillershow.com