Richard Wolfe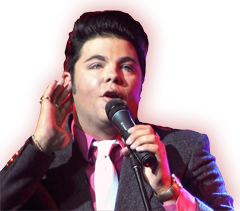 Richard Wolfe's deep voice has been a part of the Elvis circuit for seven years. "Last year I achieved what no one else could achieve," Wolfe said. "I was the first non-pro to go to the Ultimate Elvis contest down in Memphis, Tenn."
The reason Wolfe looks up to Presley? His image.
"If you think of great entertainers, the first person you think of is Elvis Presley," Wolfe said.
While Wolfe has plenty of tribute experience, it is his first time participating in the Elvis Birthday Bash.
"I'm super excited about it," he said.