Tim 'E' Hendry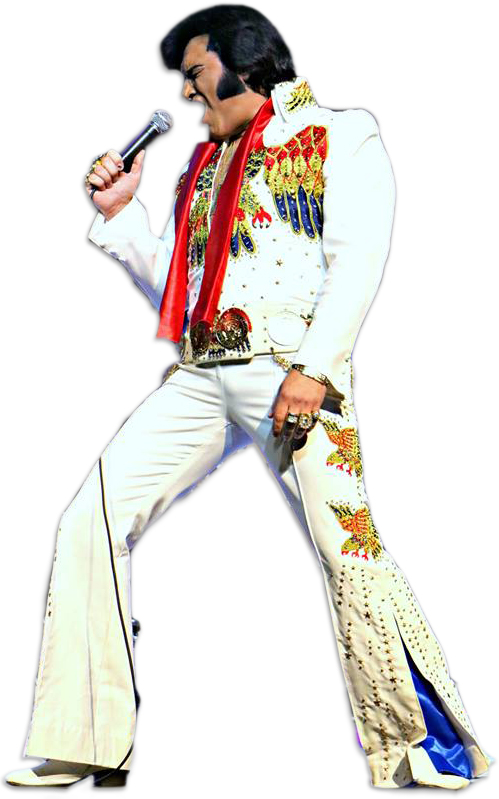 Tim 'E' was crowned the 2013 KING OF THE WORLD ELVIS TRIBUTE ARTIST WORLD CHAMPION, on August 16th in Memphis Tennessee.
Tim 'E' has starred as Elvis in several productions in North America, including Casino Cruise Lines in Port Canaveral and Jacksonville Florida. His ability to capture the essence of Elvis Presley is uncanny and his love, admiration and respect for the King of Rock & Roll and his music, is clearly evident in every performance.
The show is an unbelievable replication of the raw energy, passion and conviction that was evident in every show that was performed by Elvis Presley.
Relive the glory, the passion and the sheer joy of Elvis Presley and his music, re-created for you by THE 2013 WORLD CHAMPION!
He is also . . .
• The 2017 Las Vegas Elvis Festival Grand Champion
• The 2017 Myrtle Beach Elvis Festival Grand Champion
• The 2017 Nashville Elvis Festival Grand Champion
• The 2017 Georgia Elvis Festival Grand Champion
• The 2017 EP Expo Quechan Casino Winterhaven, CA, Grand Champion
• The 2016 EP Expo Sugar Creek Casino Hinton, OK, Grand Champion
• The 2016 Lake George Elvis Festival Grand Champion
• The 2016 Deadwood SD Mountain Grand Casino Grand Champion
• The 2015 Ocean City Elvis Festival Grand Champion
• The 2015 Lacrosse Wisconsin Elvis Explosion Grand Champion
• The 2015 Diamond Jo's Casino King Explosion Grand Champion
• The 2015 Georgia Elvis Festival Grand Champion
• The 2015 Waterloo, Iowa Blue Suede Memories Grand Champion
• The 2014 Toronto Flaming Star Festival Grand Champion
• The 2014 Diamond Jo's Casino King Explosion Grand Champion
• The 2014 Lacrosse Wisconsin Elvis Explosion Grand Champion
• The 2014 Waterloo, Iowa Blue Suede Memories Grand Champion
• The 2014 Shake Rattle and Soul Festival Grand Champion
• The 2013 SkyDancer Casino Shake Rattle and Roll Festival Grand Champion
• The 2013 Lacrosse Wisconsin Elvis Explosion Grand Champion
• The 2013 Portage Indiana Elvis FANtasy Festival Grand Champion
• The 2013 King Trilogy Festival Grand Champion
• The 2013 Philadelphia Elvis Festival Grand Champion
• The 2012 Toronto Elvis Festival Grand Champion
• The 2012 Oconomowoc, Wisconsin Shake Rattle & Roll Grand Champion
• The 2011 Windsor Elvis Festival Grand Champion
• The 2010 Collingwood Elvis Festival Grand Champion