Buddy Holly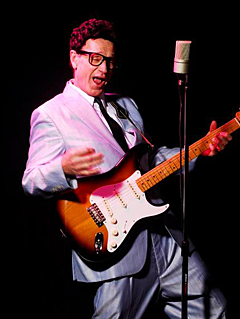 This year you will have the chance to hear the live sounds of the legendary Buddy Holly come back to life by John Eske.
It's fairly well known that Buddy Holly didn't have the longest recording musical career when compared to similar artists during his time. However, the amount of talent he was able to contribute to the music industry throughout his life is difficult to match. Holly wrote and performed the hits "Peggy Sue" and "That'll Be the Day." He had the opportunity to be the opening act for Elvis Presley at the Lubbock Youth Center. He also belonged to the band now known as "The Crickets."
Not only did Holly write over 40 songs, but he established the classic rock and roll instrument lineup including two lead guitars, one bass, and a set of drums. Holly was both inspiring and influential to many bands during and after his time, including the Beatles and Hollies. Before he passed, Holly worked with orchestration and how those tones could relate to rock.