The Blues Brothers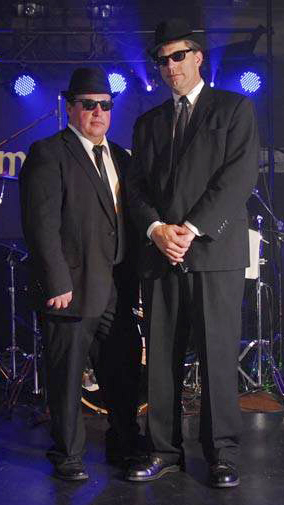 Jeff King ("Joliet" Jake 2.0)
Jeff King is an established and respected musician, with a career spanning four decades. In the late 1970's, Jeff's resemblance to the late, great John Belushi opened the door to showcasing his own formidable acting and musical talents onstage. Jeff's charismatic and animated physical style were instrumental in forming a persona that now complimented his achievements on the live music stage. All of this has culminated in the opportunity to pay tribute to "Joliet Jake - John Belushi" a part Jeff is qualified for and passionate about and which is, in reality, the pinnacle of his entertainment life's work. Over the past twenty five years, Jeff King has been the face and personality of the immortal Jake Blues in Skyrock, & the Ultimate Legends Show.
Matt VonRueden (Elwood 2.0)
Originally from Watertown, Wisconsin was influenced by the great acts that played at his father's nightclub, and other groups such as SKYROCK who he worked with as a crew member. In the 1990s, Matt focused on performing as "Elwood Blues" for the past 25 years with partner Jeff King. The Blues Brothers act evolved beyond the local show rooms and together with his stage partner Jeff King (Jake) they starred in the Blues Brothers Review, backed by the group SKYROCK. Since that time, their Blues Brothers act has toured extensively across the US and they are currently touring in The Ultimte Legends Show. In addition to his stage work, Matt also puts his extremely versatile electronics ability to work with BMO Harris Bank.