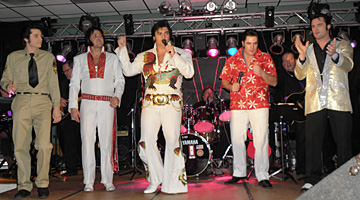 A big THANK YOU to all of you who attended this year's Legends of Rock and/or Elvis Birthday Bash shows. We had a blast, and want you to know we appreciate very much your support and comments to help us improve the events.
We'd also like to thank all the talented individuals who performed, Dale and the staff at Weston Lanes for their untiring effort to help us produce the events, and to every one of our family and friends for their willingness to help with all the different tasks needed to keep the show going into its tenth year!
We will be posting photos and video as time permits and will link them up here.
Hope to see everyone again January 10 & 11, 2014!
Peace out,
Dianna & Jeff Busha